The holidays are a time of generosity, reflection, peace, love, and general merriment; a chunk of the year when we all smile a bit wider and laugh a bit louder. And ok, for some people out there, that's exactly what this time of the year is about.
But let's be honest here…for the rest of us, the holidays are usually about scrambling from store to store, dogging clerks, other customers, and run-away shopping carts, searching desperately for "the best holiday gifts" for our kids, spouses, parents, family, friends, co-workers, mailmen, and even our mother-in-laws. At a time when every movie on the tube and song on the radio tells us to "have good cheer" and "believe in miracles," we find ourselves in mile-long lines, trapped in noisy department stores, loaded down with pounds of toys and trinkets, trying desperately not to cold cock the random person in line ahead of us.
Now I don't mean to sound jaded or cynical here. I love the holidays as much as the next person. I'm just saying that with all of the stress that comes with generosity, the true meaning of the holidays can get lost in the sauce. I just think we'd enjoy this time of year, have more time with our families, and really find some peace during the holidays if we could get all of our gifts and stocking stuffers easily, and without venturing out into the craziness that is holiday shopping season. Well, guess what; that's exactly why we, at Sports Unlimited, created our all new Holiday Gift Finder!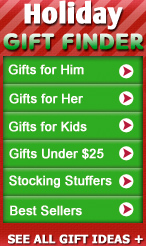 This all new Widget and our latest gift sections do the work for you, weeding through our huge selection of sporting goods and apparel, to bring you just what you're looking for; the perfect holiday gift ideas! Organized to help you find exactly what you need…or to give you gift or stocking stuffer ideas you'd never have through of, our Gift Finder has it all for everyone on your list.
Gifts for Him: Instantly find the coolest athletic apparel, fan gear, or sports gear gifts for your boyfriend.
Gifts for Her: Get her the coziest fleece jacket or winter gloves without awkwardly roaming the stores this year.
Gifts for Kids: Fill the bottom of the tree with incredibly fun Franklin sports games, sleds, and air hockey tables for the kids without a trip to the toy store!
We've even created sections full of gift ideas for the sports fans or athletes in your life. We have the latest gear and apparel for lacrosse, golf, soccer, field hockey, football, baseball, basketball, and even hiking and mountaineering! Whatever they're into, whatever your budget…the gift finder at Sports Unlimited will get you through your shopping list in no time…with no stress.
And don't think for a second that we built all of this just to fill it with clearance items, slow-selling stuff, and discontinued products. We took our time, researching our most popular products and highest selling gear at every price point, in every category, for every customer, to bring you a gift finder that actually finds gifts they'll love. So this year, take a load off, skip the stress, get the gifts out of the way, and really enjoy the holidays for the first time in a long time.