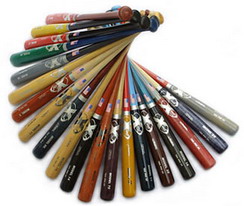 "Wood or aluminum?  How much should it weigh?  Where is the barrel?"
If you've ever been a little overwhelmed or intimidated when buying a baseball bat or softball bat, don't worry.  You're not alone.  Bats are becoming pieces of incredible technology and each year things get more and more complicated.  But trust us, all of these seemingly confusing and sometimes maddening changes are making the game, and learning the game, better for people of every age and skill level.
Because of the overall confusion that comes when buying a new baseball bat or softball bat, we decided to try and help simplify the process.
The following is our guide to purchasing baseball bats / softball bats.  If you've been through this before and have any comments or advice for anyone having difficulty purchasing a bat, feel free to help them out buy commenting at the end of the post.
Check out Sports Unlimited's Baseball Bats and Softball Bats
How to buy a Softball Bat / Baseball Bat

How to Buy a Softball Bat / Baseball Bat
Similar to baseball gloves, choosing a baseball or softball bat is primarily dependent on your personal preferences. Below we will explain bat materials, sizes, technology and regulations that will help you determine the bat that will fit you best. We offer baseball and softball bats to fit everyone's preferences from Rawlings, Louisville Slugger, Wilson and ComBat.

Bat Materials
Wood Baseball Bats – Used primarily by professional players, wood baseball bats are heavier and have less hitting power than metal bats. These are the only bats permitted in Major League Baseball so if you have professional aspirations you should practice with a wooden bat. Maple and ash wood are the most popular because of their strength, hardness and density.
Aluminum Baseball Bats / Softball Bats – Aluminum bats are lighter and more durable with increased hitting power. The lighter weight allows batters to generate more speed on the wall, permitting the batter to hit the ball harder and farther. Lighter baseball and softball bats also increase the "sweet spot", the hitting zone on the bat's barrel that provides the maximum area for bat to ball contact.

There a variety of aluminum alloys, mostly combinations of Zinc, Copper, Magnesium and Aluminum, some being a little bit more durable and stronger than others. Here is a general breakdown of the some of standard alloys:

7046: Standard aluminum alloy used in most baseball and softball bats. 

CU31 / 7050: More durable than 7046 with traces of zirconium, magnesium and copper.

C405 / 7055: Increased zirconium content, giving these bats more strength than 7050.

C555: Contains traces of scandium, making it the strongest of the alloys listed here.

Graphite/Titanium Lined Baseball Bats / Softball Bats – Graphite and titanium can be added to thinner-wall aluminum bats to decrease weight and therefore increase the batter's hitting speed. These materials also reduce vibration and the sting you feel upon contact with the ball.
Bat Sizes
Length and Weight: Baseball bats and softball bats come in different lengths and weights.  The weight drop is a figure you will often see given to describe a bat. It refers to the difference between the length of the bat (in inches) and the weight of the bat (in ounces). It is always shown as a minus number and the higher the weight drop, the lighter the bat. For example, a baseball bat with a -10 weight drop would be lighter than a bat with a -3 weight drop.
Determine Your Bat Length by Weight and Height

Your height (inches)

Your weight (pounds)

36-40

41-44

45-48

49-52

53-56

57-60

61-64

65-68

69-72

73+

Bat length

less than 60

26″

27″

28″

29″

29″

61-70

27″

27″

28″

29″

30″

30″

71-80

28″

28″

29″

30″

30″

31″

81-90

28″

29″

29″

30″

30″

31″

32″

91-100

28″

29″

30″

30″

31″

31″

32″

101-110

29″

29″

30″

30″

31″

31″

32″

111-120

29″

29″

30″

30″

31″

31″

32″

121-130

29″

29″

30″

30″

31″

32″

33″

33″

131-140

29″

30″

30″

31″

31″

32″

33″

33″

141-150

30″

30″

31″

31″

32″

33″

33″

151-160

30″

31″

31″

32″

32″

33″

33″

33″

161-170

31″

31″

32″

32″

33″

33″

34″

171-180

32″

33″

33″

34″

34″

180+

33″

33″

34″

34″
Note: In general, bigger, stronger players usually prefer a heavier bat since they reap benefits from both the heft and swing power. Smaller and younger players should use a lighter bat to generate a quicker swing and provide better control.
Barrel Size: The bat's barrel size is the diameter of the larger part of the bat. The larger and longer the barrel, generally, the larger the sweet spot of hitting the ball. Smaller barrel sizes are lighter and allow for more bat speed. A standard barrel size is 2 1/2 inches.
Bat Taper: The bat's taper is the diameter of the bat's handle. A bigger bat taper can reduce the sting that occurs when the ball isn't hit on the sweet spot but it also increases the overall weight of the bat. Standard bats are tapered 31/32 of a inch.
Bat Technology
Baseball bat and softball bat technology has advanced significantly over the years, enabling manufacturers to build lighter and more durable bats. Each manufacturer has their own terminology for their designs but we have highlighted a few of the newest technologies currently on the market.
Exogrid Stiff-Handle Technology – Developed to increase handle strength and stiffness without increasing weight. This is achieved by trimming some of the handle's metal in a grid pattern and replacing it with lighter, stiffer carbon inserts. A carbon sleeve is also inserted with unidirectional fibers that run the length of the handle. Finally, using heat and pressure, the sleeve, inserts and metal wall are bonded together to function as a single, solid unit.
X-1 Composite Technology – Features multiple layers of 100% aerospace grade graphite which are embedded in a specially designed toughened epoxy resin. Each layer is precisely positioned at an angle determined by Louisville Slugger's exclusive computer-designed pattern. The result is a bat with the optimum combination of performance and durability. 
Wilson –
Half & Half Technology – The original "Bat That Bends", Half & Half technology combines a Flex-Tuned Evolution Composite handle with an SC-3 Alloy barrel for optimal balance and a monstrous sweet spot.

Virtually indestructible, the Half & Half™ system redistributes weight for optimal balance, allowing players to swing faster with less effort. 

Positack Grip – Moisture-absorbing composite material provides a secure grip while also reducing vibration and hand fatigue for better feel and control, with or without a glove.
Combat –
Nanocomp Technology Inside (NTI) – Disperses throughout Combats proprietary tough liquid resin effectively filling all relatively low strength microscopic gaps between fibers resulting in a dramatic increase in bat strength and durability.
Bat Regulations
Bat Performance Factor (BPF)

– Defined as the increase in the liveliness of a ball hitting a bat compared to throwing a ball against a solid wall. For example, a baseball bat with a BPF of 1.20 would rebound a ball 20% faster than a solid wall would).

Ball Exit Speed Requirement (BESR)

– The ball cannot rebound off the the barrel of the bat at a speed higher than 97 MPH.

College / High School Regulations

Must meet BESR

The bat barrel can be no larger than 2 5/8″ in diameter

The bat can be no lighter than 3 ounces less than the length

Every league has their own regulations so be sure to check your league's rule book before purchasing a new bat.