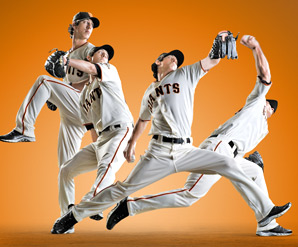 6 and a half months down, 4 teams remaining.  Welcome to Playoff Baseball!  The LDS round brought plenty of drama and memorable moments. From Roy Halladay's epic no-hitter to Cliff Lee's dominating series-clinching game 5 W against the Rays to give the Texas Rangers their first postseason series victory EVER, the 2010 LDS round will be remembered as one of the good ones.
One thing that has carried over from the 2010 regular season: amazing pitching.  In what has been widely hailed as "The Year of the Pitcher", 2010 gave us 5 no-hitters (1 being a perfect game by Roy Halladay…cough cough, go Phils!) and 15 starting pitchers that ended the season with an ERA under 3.00.  The first round of this year's playoffs showcased masterful pitching, with Roy Halladay (see above), Cole Hamels, Cliff Lee, and Tim Lincecum each throwing for a complete game victory.
There were also some painful memories made in the LDS, most notably Atlanta Braves infielder Brooks Conrad's game 3 against SF.  Kid had 3 errors, which led to a difficult, and tough to watch Atlanta loss.
But now we shift our focus to happier times; the League Championship Series round.  Symmetry is present in both series'; both have the respective league champion against a championship-starved franchise.  In the National League Championship Series, we have the San Francisco Giants looking to dethrone the two-time National League Champion Philadelphia Phillies, while in the American League Championship Series, we have the Texas Rangers trying to overcome the defending World Champion New York Yankees.
National League Championship Series – SF vs. PHI
In the NLCS, game one has built up almost enough hype to match Lebron's "The Decision" (don't get me started on that. Hopefully this one has a bit more payoff.).  In one corner, representing the West Coast, we have two-time defending NL Cy Young winner, Tim Lincecum.  In the other corner, representing the East Coast, we have former AL Cy Young winner and this year's presumptive NL Cy Young favorite, Roy Halladay, who happened to throw the second ever no-hitter in a postseason game last week, in case you were living under a rock and/or skipped the first paragraph of this post.  Ding ding ding!
Okay, so there are other players outside those two game 1 Aces, but make sure to tune in for this one – hopefully it can live up to the hype and we witness something special.  Tim "The Freak" Lincecum didn't pitch too shabby last week either, throwing a 14-K 2-hit shutout in Game 1 against Atlanta.  Yeah, he's pretty good.  Other storylines include Pat Burrell against his former team, Oswalt vs. Sanchez and Cain vs. Hamels, the slightly struggling offense of Philadelphia (1 HR in the first round), and Brian Wilson's temperament.
Prediction: I see this one being a long, claw-it-out series, as San Fran has the pitching to match Philly's H2O trio at the top of the rotation.  Timely hitting and defense (classic postseason cliches) will be key factors for winning this series.  Philadelphia over San Francisco in SIX
Key players to watch: PHI C Carlos Ruiz (.299 career postseason avg.) and SF Game 3 SP Matt Cain (6.2 IP, 0 ER in NLDS)
American League Championship Series – NYY vs. TEX
Duke-Butler anyone?  That analogy may be a bit of a stretch, but the Texas Rangers just earned their first postseason victory in franchise history (!), while the Yankees are seeking that elusive (sarcasm) t-w-e-n-t-y-e-i-g-h-t-h championship (selfish?).  Think about that for a moment.  28th championship?  Versus first World Series birth in franchise history, which began in 1961.
Now that we've got the macro-view of the series out of the way, New York brings a powerful lineup along with probable AL Cy Young winner CC Sabathia, dependable Andy Pettitte, and impressive-first-round-pitching Phil Hughes (and possible game 4 SP AJ Burnett).  The Yankees swept through the Twins with mild ease, outscoring them 17-7.  They bring last year's championship "experience", along with tons of confidence, into this year's ALCS.
The Texas Rangers got through a roller-coaster ALDS against the Rays in 5 games, as the road team won each game in that series, which means Texas' all-time postseason victories at home remains at a gentleman's zero.  I love Cliff Lee, but he won't be able to go until Game 3 in NY, where he put on a performance for the ages in last year's Game One of the World Series (remember this??? – CLASSIC).  CJ Wilson and Colby Lewis are both fine pitchers, but they don't strike the same fear in the opponent as Cliff Lee does.  The Rangers bring a talented lineup and bullpen as well, with Elvis Andrus, Nelson Cruz, Michael Young and Ian Kinsler in the field along with probable AL ROY winner Neftali Perez at closer.
Prediction: I really, really want to go with Texas to win this series, but the Yankees just look primed for this series.  If Cliff Lee was going to pitch Games 1, 4, and 7 (which isn't even a definite since he hasn't really pitched on short rest in his career, at least to my little knowledge), then I would probably side with the underdogs.  But I'm siding with the Yankees in SEVEN (don't tell anyone in Philly that I said that).
Key players to watch: Yankees CF Curtis Granderson (5/11 in ALDS) and TEX RF Nelson Cruz (3 HR in ALDS)
So what do you think?  Which teams will meet in the World Series?  And who are going to be the standout players?