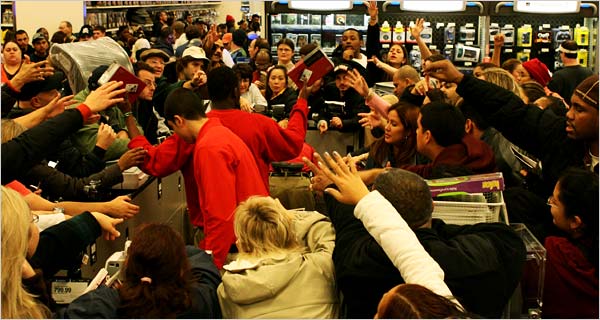 T-Minus a week and change until the Holiday Season unofficially begins.  As you may have heard, the day after Thanksgiving (very underrated holiday) is also known as Black Friday, a day in which sales and discounts are aplenty for the holiday shoppers.  Additionally, the Monday after Black Friday has (un)officially been dubbed Cyber Monday, a day in which online bargains in the form of mass discounts take the centerstage, which results in a 329% increase in shopper joy (note: statistics are guestimates).
Here's the thing: we're an online store.  We're all about the internet, baby (which means no crazy lines, no parking, no traffic, etc.).  But does that mean we're limiting our savings to just Cyber Monday??  Pause – NO NO NO (Santa!)!  We're offering great deals starting Black Friday! Rejoice!!
So make sure to check our site regularly throughout next week, on Black Friday, over that weekend, on Cyber Monday, and beyond, because we have a plethora (SAT vocab word) of great offers coming up that'll make you go wild!
I offer one tip, however.  If you sign up for our e-mail newsletter, you will get a sneak peek at upcoming Holiday deals starting early next week.  I highly suggest the e-mail newsletter, because really, who wants to wait until the last minute to hear about all of the great deals that are going to be offered?  This way, you get a chance to plan ahead without getting overwhelmed.  To sign up, scroll to the bottom of the page and type in your email address under where it says "Email-Signup".  And then sit back, refresh your email every now and then, and get ready to gear up.