I remember waking up Christmas morning so excited to see what Santa brought me. What kind of new gadget or toy would be my favorite? Crossing my fingers that it wouldn't be clothes! You know, when you're 8, 9 or 10 years old the last thing you want is a new pair of PJs.
So parents and grandparents here is your guide to ensure you are the cool parent that gets something your boys will love.
#1 Space Scooter X580 Scooter
The Space Scooter X580 Scooter is the hottest gift this year. No more pushing off with your back foot to propel yourself forward. Just hop on the X580 and use a teeter-totter motion to ride. Ride faster and further than a traditional scooter! It's rated for kids and adults up to 200lbs and it folds for easy storage. Price: $149.95
#2 Stiga Stanley Cup Table Hockey Game
I used to love playing table hockey back in the mid-80s. The problem with the hockey games then was the puck always used to get stuck behind the net where you're player couldn't get it. That's no longer the case with the Stiga Stanley Cup Table Hockey Game. This game is well built. The players all move back and forth and spin in circles smoothly.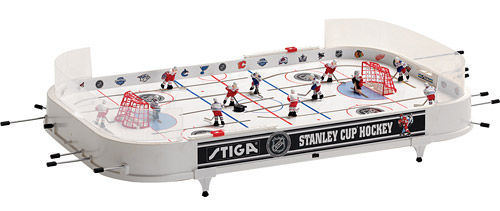 The puck doesn't get stuck and on hard slap shots it doesn't leave the rink. The extended plexi shields behind the goal keep the puck in play. It's just a great game to play with your son or for him to play with his friends. Price: $109.95
#3 Wham-O SnowBoogie Fantom-X Winter Snow Sled
Remember the days sledding with the Flexible Flyer steel runner sled? Well, check out the 21st century edition. The Wham-O SnowBoogie Fantom-X Winter Snow Sled will make all the other kids in the neighborhood jealous. The Fantom has so much going for it. It's great for both single and two-person riding. The driver gets the fun of using the handlebar style control to easily maneuver down the hill. The frame is constructed of metal alloy to endure many seasons of sledding. And no more riding on a wood platform. The lightweight nylon mesh seat is much more comfortable. Come on Mom, hop on with your boy and take a ride! Price: $99.95
#4 Park & Sun Portable Tetherball Set
Here's another classic game that is sure to take you back to your childhood. The Park & Sun Portable Tetherball Set is very well made and it's portable so you can take in anywhere. This set features a tripod base and center pole anchor which is best set up in and area with firm grass/soil. There is no need to dig a hole and pour cement! It comes complete with the nylon cord and tetherball. The galvanized steel pole is made to last! Price: $69.95
#5 Under Armour 395 Junior Football
This is a simple gift but it's one that is enjoyed by many dads and sons for generations. This Under Armour 395 Junior Football is a great choice. I prefer this over the Wilson version because the softness and grip. The junior size and grip make it easy for kids to throw and catch. It also won't break the bank. Price: $24.95
Any of these gifts are ones that will bring a smile to a little boys' face on Christman morning. They are also toys that are best played with two people. And isn't the fun of Christmas playing with your kids and grandkids?!?!