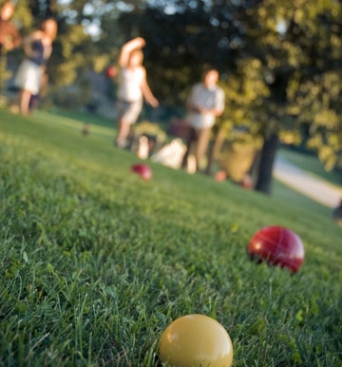 Bocce ball is a classic backyard or beach game. Easy enough for the little guys to learn, but challenging enough for even the most competitive of dad's out there, bocce has been a favorite family game for generations!
But as simple as the game may be, finding the right bocce set for your next picnic can be anything but! So to help ease the process a bit, here are few
recommendations on how to choose the best bocce ball set:
What's your budget?
A very well made bocce set will run you anywhere from $75 to $140. However, if this blows your budget, there are some great economical sets that range in price from $40 to $60.
What's are the differences in bocce sets, and what am I getting for the money?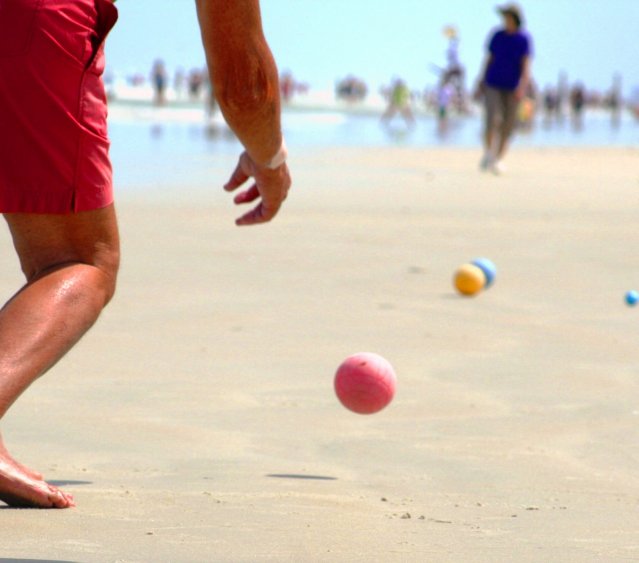 The weight, construction, and materials of a set will dramatically affect the price and the play, so keep these in mind when on the lookout for a new one.  The higher-end sets all feature solid, one-piece construction, precision roundness and balance. They're also typically made of high-quality composite resins, so they won't warp or deteriorate over time, or due to weather conditions. More affordable bocce ball sets are typically made from plastic or wood. Generally, the weight of the balls shouldn't determine the quality of the set, but keep in mind, that if it is very light (less than 920g / 107mm in diameter), you're probably looking at a cheaper set.
Should I pay more for a good bocce ball set?
If you are purchasing a set for backyard play or for family fun, it's okay to go with a lighter set between 100mm and 107mm. People usually buy the heavier sets is to get a truer roll and better feel of the ball. But when you're in the backyard on uneven surfaces and bumpy terrain, the precision roll is not as important.  At $58.99 the Park & Sun 100mm Bocce Set is a great set for the beach or backyard. We also recommend the St Pierre Sport 100mm Bocce Set with Nylon Bag at $56.99 which offers a little more weight, for improved performance.
You may also want to think about getting a second set just for the kids! After all, when you have your favorite adult beverage in one hand and a bocce ball in the other, there's no room for any kids. At your next backyard BBQ, the little ones will want to play too, so it might be a good idea to consider purchasing a lighter weight, inexpensive bocce set for them. Sports Unlimited has some great kids bocce sets on sale right now!
Is this party going to feature a bracket style, tournament level competition?
If you're looking to show off your sick bocce skills to your old college buddies, than maybe you want to step up to a tournament set. Most tournament sets are played with balls 110mm to 114mm in diameter.  EPCO manufacturers some of the highest quality sets that are made in the USA. The EPCO 110mm Bocce Set is our number one selling Tournament Set at $119.99.
Most sets come with a carrying/storage case for easy transporting and protection.
We hope this helps you find the perfect bocce ball set for you. But if you have any questions about bocce, or any backyard game, feel free to give us a call at 800-693-6368!
Enjoy the party!
By Mike Neff.

Mike is the Director of E-commerce at Sports Unlimited.