One of the toughest decisions made gearing up for the 2017 baseball season is which equipment is best for those behind the plate? As kids continue to grow, sizing always becomes important, not to mention the significance of safety. Today's top baseball brands all manufacturer youth catchers gear sets to simplify the shopping process. These catchers sets all include a helmet, chest protector, and leg guards. One question that still needs to be answered, what is the best youth catchers set for me?
With such a wide variety of manufacturers and different lines, it can be a bit overwhelming deciding which set of pads to purchase. You can visit our Catchers Gear Buyers Guide to see exactly was size you'll be looking for. Once you have that, you can review our selection of Top 5 youth catchers sets, to see which best matches your needs.
5. Louisville Slugger Series 5 Youth Catchers Set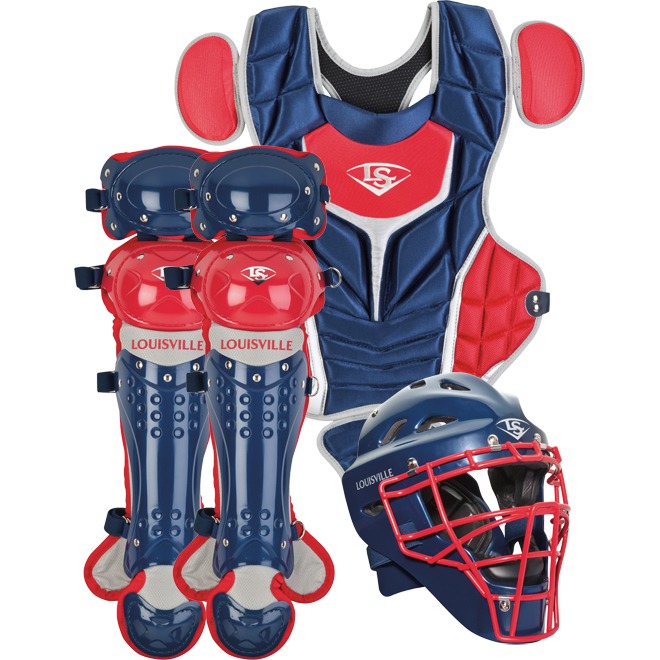 The Series 5 youth from Louisville Slugger is everything you need from a youth catchers set. Featuring a hockey style mask that offers excellent protection and a moisture-wicking chin pad that keeps your little leaguer comfortable. The Chest protector is made with a high density foam and quick release over-the-shoulder harness make for east on and off. Complete with the double knee design shin guards for extra protection. The Series 5 youth is perfect for a team set, or someone just learning the position. With a variety of color options and a friendly price point, the Louisville Slugger youth catchers gear set is an excellent value at number 5.
4. Easton M5 Qwikfit Youth Catchers Set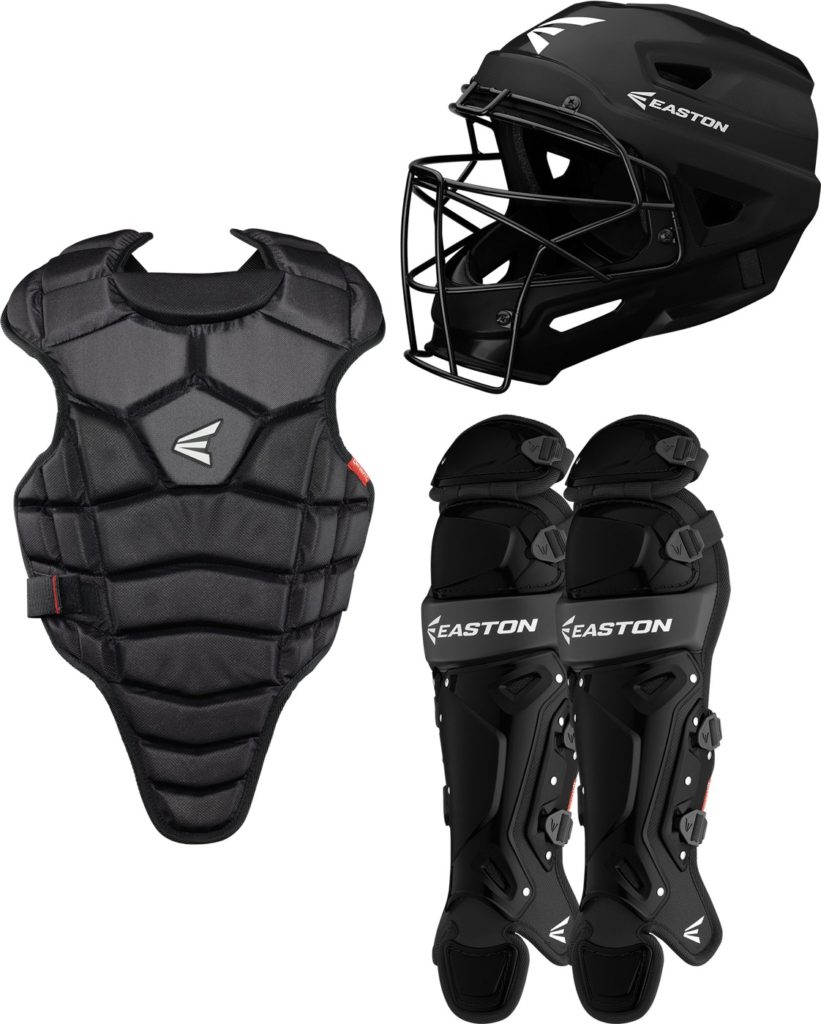 The M5 Qwikfit youth set offered by Easton certainly had parents and coaches in mind during its design process. The greatest feature to this set of helmet, chest protector, and leg guards is undoubtedly the Qwikfit strap system. Developed specifically to make for easy adjustments by the player, no longer are coaches or parents forced to help players get ready to go onto the field. This is particularly important if the set is being shared by a team with kids coming in different shapes and sizes. Offered with a range of other features that you would find on a higher level set, including steel wire cage for improved visibility, multi layer perforations to keep you cool, and a TruBlock anti-roll designed leg guard that increase stability and protection. All of this, plus a reasonable price, make the Easton M5 Qwikfit youth gear our recommendation for the ideal team set.
3. All Star System Seven Youth Camo Pro Catchers Set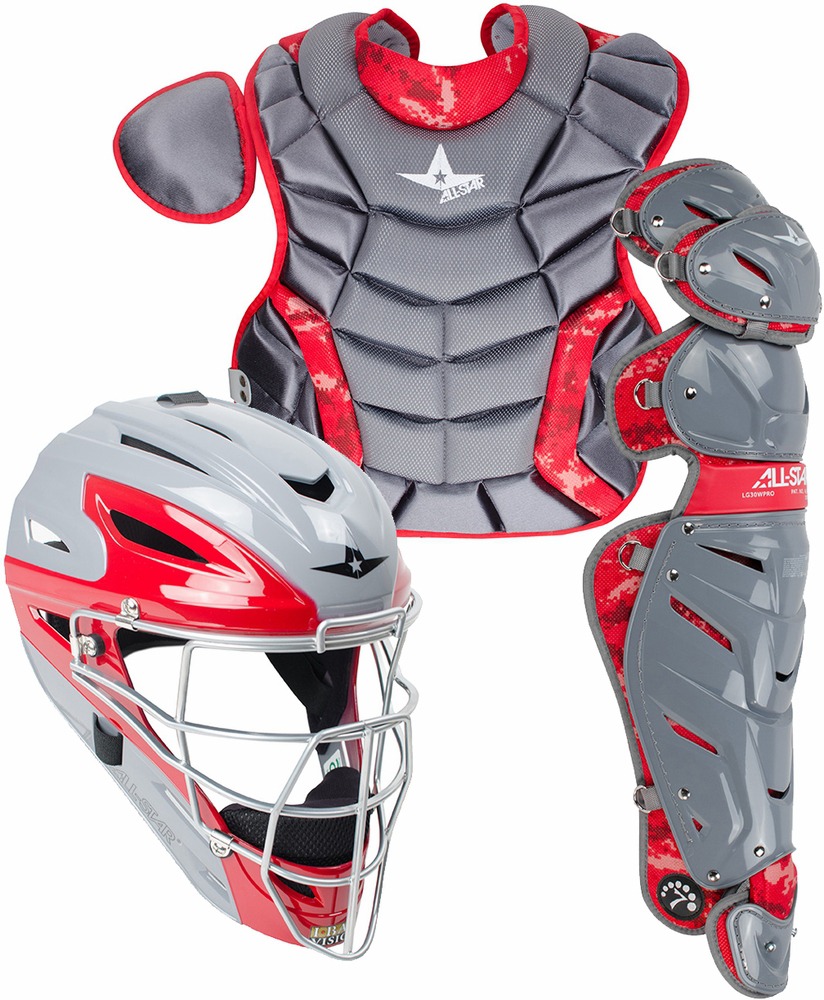 The All Star System Seven Youth Camo Pro Catchers Set is everything is sounds like and more. This set offered by All Star is essentially their professional level pads scaled down to fit a youth player. Everything from removable liners and an I-Bar vision cage on the helmet. To moldable protective plates in the chest protector and a Patella Plus gel knee pad in the shin guards. This catcher set has all the bells and whistles, and will outperform most sets like it. It finds itself at number 3 for one simple reasons. This set was designed for serious players, and the pricing reflects that. For most players at the youth level, this is probably more than they need. But if your a serious player on a travel ball club, than the All Star System Seven catchers set is the one for you.
2. Under Armour Junior Pro Youth Catchers Set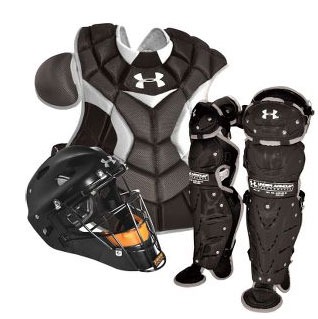 Under Armour has quickly become one of the most popular brands when it comes to baseball equipment. The reason for this is their dedication to designing cutting edge products that perform and protect. The Junior Pro catchers set follows in that tradition and provides an excellent option for all youth players. The helmet comes with the I-Bar vision from professional helmets with a sleekly designed ABS plastic shell. The chest protector has plastic inserts for extra protection and a customizable strap and harness system for optimal fit. Triple knee designed leg guards are extremely comfortable with 38 ventilation ports. Carefully designed from head to toe, the Under Armour Junior Pro could easily have been number, but still remains an excellent choice for any youth ball player.
1. Mizuno Samurai Youth Catchers Set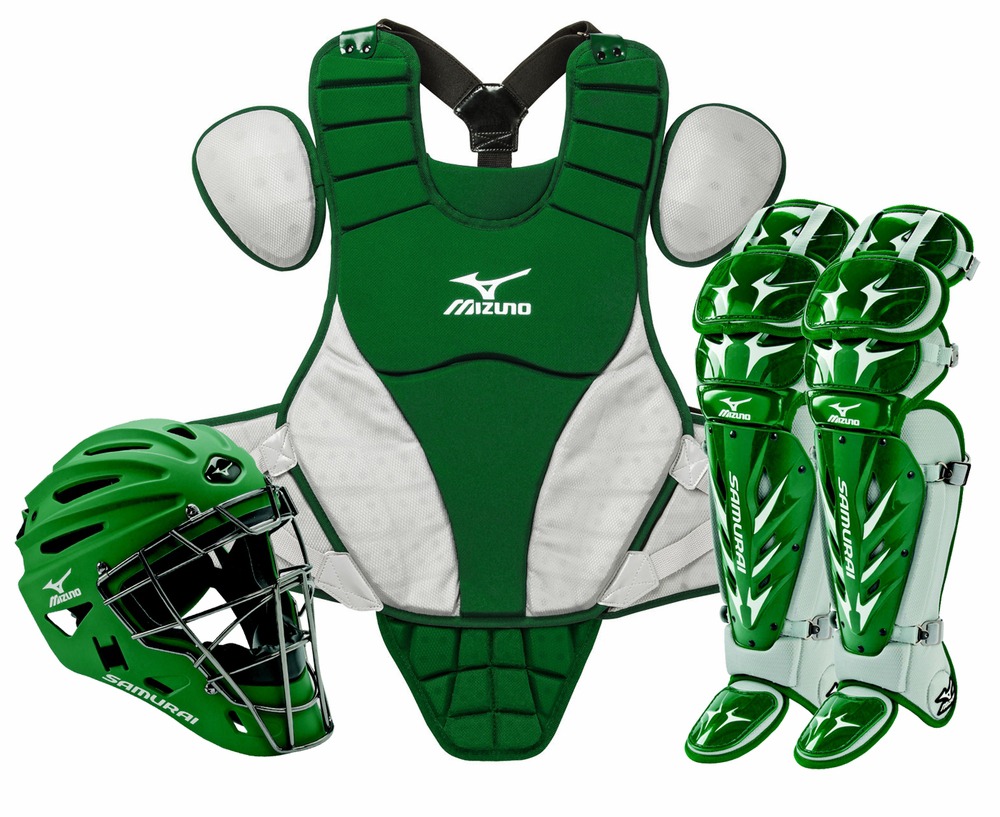 As our top choice for youth catchers gear, the Mizuno Samurai is easily the most popular set offered by Sports Unlimited. A perfect combination of protection, performance, personalization, and price; it's no surprise the Samurai is king. All the features you'd expect from a top pick; including 3-Layer EVA foam padding in the helmet, patented detachable wings for a customizable fitting chest protector, and flexible lightweight leg guards. What sets the Mizuno Samurai apart is the wide range of color options. No other set comes with a variety like the 17 colors offered by Mizuno. This allows you to match your team, or stand out. At a price that is competitive with the other top catchers sets, the Mizuno Samurai is our top pick for youth catchers gear set.
Check out all of Sports Unlimited Youth Catchers Gear
Written By Dylan Hamilton, Sports Unlimited