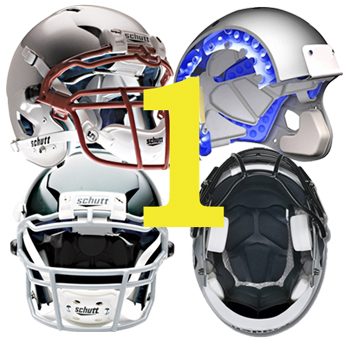 Over the last couple of years, safety concerns regarding football helmets and concussions have become a most pressing issue.  Safety issues in football are now ubiquitous, ranging from increased safety measures in the NFL to academics rating the best football helmets.  And now legislation is spreading across America aimed at treating student-athletes with concussions.
Football helmet manufacturers are very aware of this, which is why they have created the most innovative and advanced helmets the sport has ever seen.  Helmets have radically transformed over the last 10 years into engineering marvels.
To try and clear some things up, we at Sports Unlimited have compiled a list of what we believe are the best football helmets available on the market today. This includes both adult football helmets and youth football helmets, and it should come to no surprise that we believe the best youth football helmets are just the youth versions of the best adult football helmets. The adult and youth versions of these football helmets are nearly identical, with only slight differences in their make and/or build.  Enough though.  The best football helmets are…
The Best Football Helmets:
Schutt Ion 4D
The Schutt Ion 4D incorporates multiple breakthrough technologies that push the limits of football helmets in the modern game.  It uses a Thermoplastic Urethane (aka TPU) Cushioning System that's been proven superior to traditional foam padding in game-like conditions.  It provides better impact absorption, better heat management, and won't break down (even after thousands of impacts).
http://youtu.be/V40WPO17Qsg
Riddell Revolution Speed
The Riddell Revolution Speed (aka the Revo Speed) is a popular game-changing football helmet that is designed to reduce the risk of concussions by 31% when compared with a traditional helmet.  It is made with Riddell Concussion Reduction Technology (CRT), which includes an increased shell offset, extended mandibles and energy managing liner extensions, which "were the result of a four-year project using the NFL and Biokenetics' research as the backbone for development."
Ranked as the #1 Football Helmet according to a Virginia Tech research study.
See the Riddell Revolution Speed Adult Football Helmet and the Riddell Revolution Speed Youth Football Helmet.
Adult version is made with a polycarbonate shell, while the youth version is made with an ABS plastic shell.
http://youtu.be/3dq2CVZ_bck
Schutt DNA Pro+
The Schutt DNA Pro+ features the same TPU Cushioning System as the Schutt ION 4D, which offers superior padding for impact absorption.  Also  like the Ion 4D, it features a SUREFIT Air Liner for a comfortable, custom fit.
Adult version is made with a polycarbonate shell, while the youth version is made with an ABS plastic shell.
For help deciding on which football helmet is right for you and your budget, call 1-800-693-6368, and ask to speak with one of our football experts.
NOTE: These beliefs are completely subjective and do not reflect the beliefs of Sports Unlimited.  They are simply an opinion and should be treated as such.
See all youth football helmets.
See all adult football helmets.