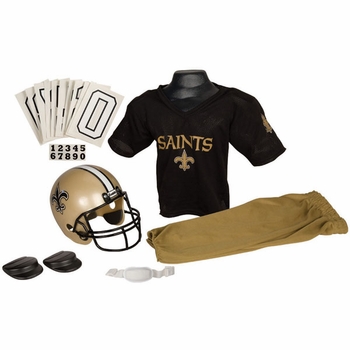 In part two of our out-of-control Halloween gift posts bonanza, we dive deep into the core fabric of what makes Halloween great: costumes.  What would Halloween be without the costumes?  Without the costumes, it would just be a day when a bunch of kids go door-to-door asking for candy.  Pretty much, Halloween would be about underage door-to-door candy beggars.
Instead, Halloween is awesome.  On Halloween, you (note: Halloween may be centered on kids, but you get to have some fun too, right?) get to dress up and pretend to be someone or something else.  Yeah, pirates are cool.  And, ok, dressing up like a vampire is "in" right now.  But let's be honest: dressing up like a pro or college football player is by far the coolest!
The NFL Youth Helmet and Uniform Sets by Franklin let your child live the dream (ok, kind of) that they play for their favorite football team!  It comes with the team's jersey, pants, helmet, along with a chinstrap, integrated removable shoulder pad inserts, and adhesive/iron-on numbers to apply to the jersey!
And if they'd rather sport a college uni, check out the NCAA Youth Helmet and Uniform Sets by Franklin.
Check out our entire stock of Halloween gear to find exactly what you need this holiday!