Football parents have enough to worry about, with the constant flow of news and statistic on concussions, the rising costs of good helmets and gear, and the changing rules in youth football. Thankfully though, one of the most influential things a parent can do to protect their child on the field is also one the easiest, and cheapest. Simply determining your child's proper helmet size, and finding the football helmet that fits him best, instantly reduces his risk of concussion exponentially…and it only takes about 5 minutes!
A snug fitting helmet that cradles and supports the head has been proven to protect, and reduce the risk of concussions better than a poorly fitting one. That means even the most expensive, best youth football helmets on the market are next to useless unless they fit properly. It also means even a moderately priced helmet is going to protect your little guy if it's fit well. So be sure to take a few minutes and get the most accurate head measurements, so when you go shopping for a new helmet (at Sports Unlimited of course), you're getting the best fit, and most protection out of your helmet!
Check out our latest video, starring SU's youth football star Zach Neff, to learn how to properly and accurately find your helmet size:
These simple steps will help you size a helmet, whether you're looking for a Riddell, Schutt, Adams, Rawlings, or any other type of football helmet:
1. Find a friend or parent to help you measure
2. Use a flexible measuring tape
3. Find a spot about 1″ above the eyebrows (where the forehead of the helmet will rest)
4. Measure around the circumference of your head
5. Record the measurements in inches and centimeters
6. Consult the size chart of your favorite helmet to find the proper size helmet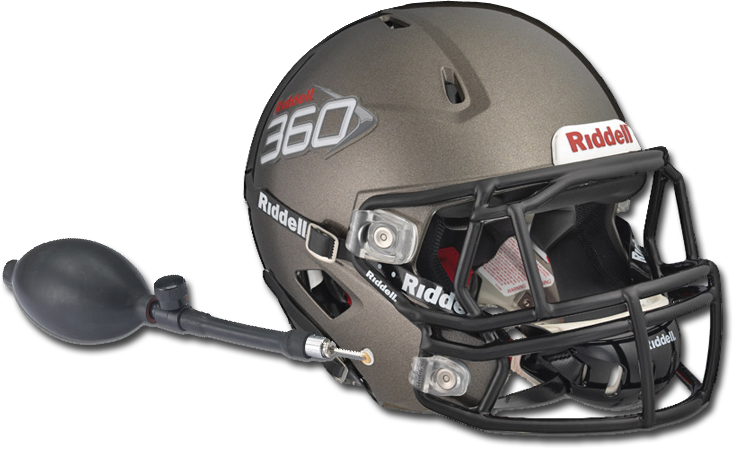 If you buy a helmet with an adjustable air liner, you can use a specialized helmet pump to inflate the jaw pads, crown, and side of the head, to get the best, customized fit!
Once you can try on the helmet, make sure it fits comfortably on the head. Then, check to ensure there is no extra space between the temples and the helmet padding or liner, and no space between the jaw and the jaw pad. If this is the case, and it feel comfortable, you've got yourself a great fitting and protective helmet!
| | |
| --- | --- |
| | By Brandon Porter.Brandon is a product specialist at Sports Unlimited. |