If you're a lax fanatic, then you know how it feels to get the perfect tilt out of your lacrosse helmet; to hit the field with your helmet sitting low, like an ancient gladiator staring down a hoard of enemies…and maybe a tiger. You strive for it, rip apart your helmet for it, and adjust chin straps, buckles, and padding to get it to sit just right for the perfect tilt…that sick, intimidating look.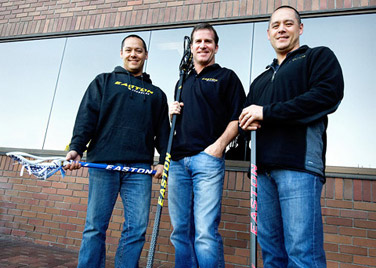 Thankfully though, some lacrosse players grow up to design lacrosse gear. If not for that, then Cort Kim, Blake Kim, and Doug Appleton would never have inspired Easton Lacrosse and lead designer Genia Harbenova to finally create the world's first lacrosse helmet with adjustable tilt!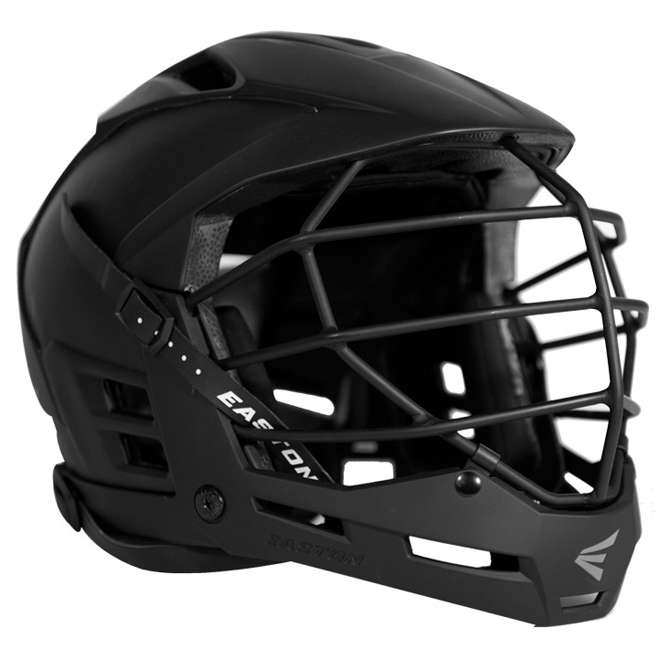 Enter the Easton Raptor Helmet! This baby is the end result of decades of lacrosse experience meeting genius design skill, blended together with Easton's ridiculous resources and a drive to flip the game on its rear. And we have to say, they did one hell of a job! The Raptor is everything lax players have been dreaming of in lacrosse helmets. Its shell is made of a single piece of polycarbonate, with a single-piece, impact-absorbing EPP foam liner heat-bonded to the inside. What does all that jargon mean for you? Well basically, the Raptor Helmet is the lightest lacrosse helmet in the world (1.8 lbs / 28.8 ounces). That's feather light. Leaf-in-the-wind light. Obscenely, should-be-illegal, outright ludicrously light! And that's just the first thing you'll notice when you pick up the Easton Raptor Lacrosse Helmet.
Put it on, and you'll feel the difference immediately. First, you can barely feel it on your head. Second, it's crazy comfortable. Let me repeat that, because it bears repeating. There's actually a comfortable lacrosse helmet out there!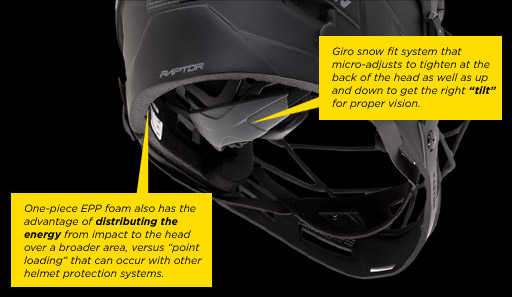 The difference with the Raptor, over any other helmet in the game, comes down to fit. Since the dawn of the modern game, lacrosse helmets have come in one size, with adjustable buckles, straps, laces, and maybe a micro-adjuster in the back…maybe. Easton Lacrosse threw that tired old model in the wood chipper and designed three different sizes (S/M, M/L, and L/XL). Then they went ahead and made each helmet completely customizable and adjustable…in every dimension. Get the best fit around your head with an In-Form Fit micro adjuster, the easiest-to-use fit band in the game. Adjust the helmet up and down, for the first time, with an innovative tilt system, to get the perfect helmet tilt, and avoid middle bar syndrome…all without going crazy adjusting chin straps and whatnot, or exposing the back of your head and chin to injury and impact. Heck, even the cheek pads come in two different thicknesses to give you that perfect, customized, comfortable fit!
But don't think it's all style and no substance here! When it comes to strength and performance, this Easton helmet doesn't hold back either. Inside, the EPP foam liner delivers the maximum amount of thickness without adding weight. This way, it distributes impact energy over the widest possible area, reducing the risk of concussions and injury.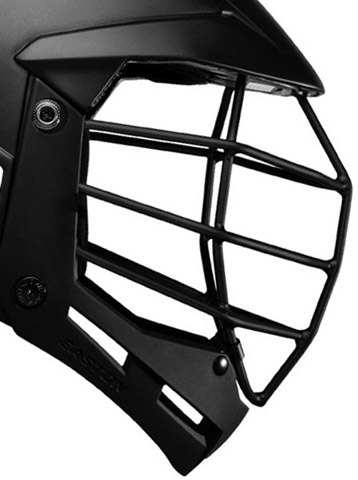 The chin bar is a separate piece, made of rigid fiberglass-filled nylon, for a stiffer, stronger construction than other injection-molded bars.
Easton tapered back the sides and top of the visor as well, intentionally shifting the steel facemask back and away from the face to improve facial protection, giving it a strikingly different look than other helmets out there.
We know it's new, we know it looks cool…but trust us when we tell you; it's so much more than that! The Easton Raptor Lacrosse Helmet is the future of lax gear, finally giving players the style, the tilt, and the safety they've been screaming about for years now. Also check out our lacrosse bags to store you new helmet, along with the rest of your lacrosse gear.
| | |
| --- | --- |
| | By Brandon Porter.Brandon is a product specialist at Sports Unlimited. |