Other than getting the win, today, most football players and parents are focused on one thing; their safety and health on the field. From the NFL to Pop Warner, players, coaches, and parents are more aware than ever of the short and long-term affects of single or multiple concussions and other brain injuries, and with research coming out everyday, it's not surprising that players are concerned for their futures and the future of their favorite game.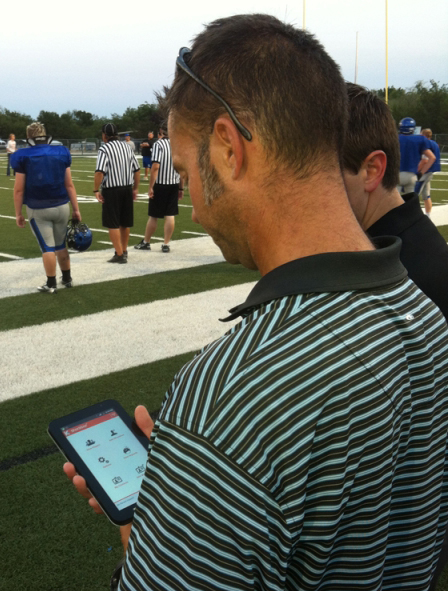 Over anything, I've found that parents and players are hungry for information! How helmets are performing, how hard their players are getting hit, how many hits they're taking during a game, how they hold up all season long. They want to see how the game is affecting their players and children, and these days, nothing is more important than accurate information. After all, the more informed parents and coaches are, the safer their players, and the better and more effective their decisions are on game-day.
So, during the game, what if it were possible for coaches, trainers, and parents to know exactly how many hits a player took, how hard he was hit, from what direction, and if he should be checked for injuries…all on their Smartphones, and instantly after every hit took place? That kind of data would be invaluable!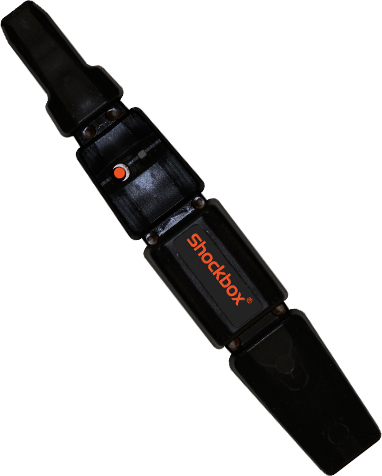 Enter the Shockbox Football Helmet Impact Alert Sensor; one of the most advanced, practical, informative, and long-lasting helmet sensors in the game today! Designed to install directly into the football helmet, this helmet impact sensor is built with Bluetooth and LED technology, and not only records the energy, acceleration, direction, and force of an impact, but then sends that information to any synced mobile device or laptop, where it's easily read and displayed for parents, coaches, and trainers, immediately after the hit! Brand new to the market, we at Sports Unlimited were incredibly impressed by this technology, and are proud to be one of the first distributors of this advancement in the game! Always focused on protecting players, we're excited to see how Shockbox helmet sensors change football for the better.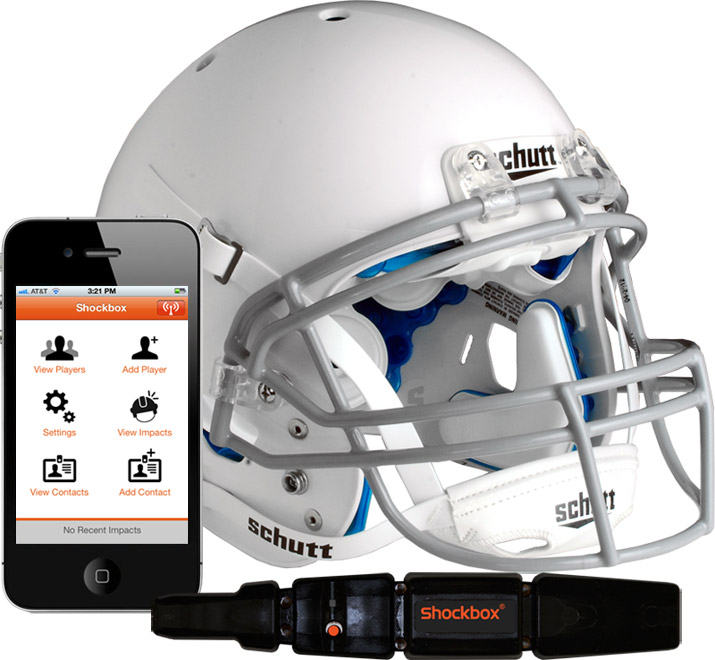 Already used by pro wide receiver Laurent Robinson, the Shockbox is a long and thin helmet impact sensor that attaches securely to the inside of the football helmet shell, and is compatible with almost every modern helmet from Riddell, Schutt, and Xenith, except the Riddell 360. The football helmet sensor comes with a free download of a specially designed Smartphone App for your Blackberry, iPhone, or Android, and quickly syncs to any device with the touch of a button. Once synced and installed, the Shockbox will record and report any impact over 50 g of acceleration, directly to your phone, up to 325 feet away.
The App itself is incredibly user friendly, and utilizes data based on over 40,000 individual sets of tests over multiple helmet types, and over 18 months of live data, to give you the most accurate information possible. Its features let you monitor the health and progress of up to 128 players (more than enough for any coach or trainer). You can easily see how many hits a player has taken during a game, a season, or a career, how hard each hit was (on a color-coded scale from light to severe), and even record and update symptoms and treatment if injuries take place.
In addition to being an all-important hit-counter, the App also includes a mini SCAT 2 concussion assessment tool, which allows you to record player symptoms, track health, and determine the likelihood of a concussion. With this data, coaches and trainers can make more informed and faster decisions to take players out of the game, and treat them if necessary.
In today's football world, information saves lives. So stay informed, and know when a hit is too hard, with the most advanced and innovative helmet sensor system out there today; the Shockbox Alert Sensor!
By Brandon Porter.

Brandon is a product specialist at Sports Unlimited.