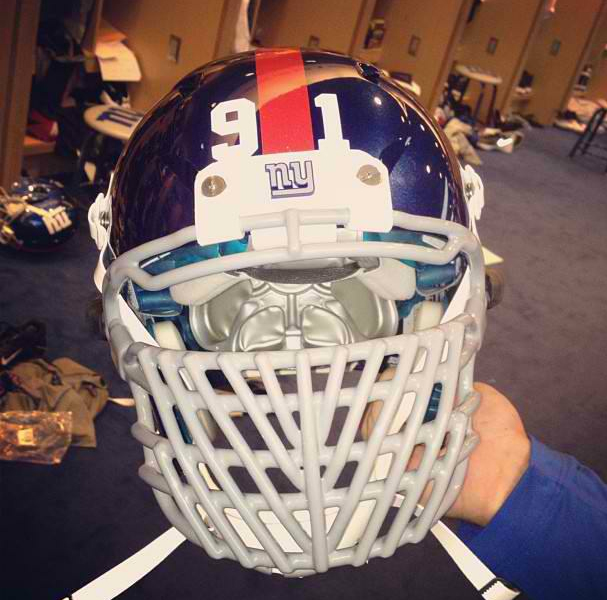 So apparently, having the baddest looking facemask in football wasn't enough for Justin Tuck. Last year, the New York Giants defensive end made headlines with his six horizontal bar facemask. The custom job was built to keep fingers out of his facemask, when he suspected opponents of attempting to get their hands inside and yank his helmet, after word of a neck injury got out. Some called it ridiculous…some called it amazing. Regardless, after Schutt designed them for the public, it became one of the best selling facemasks of the year!
Now, he's taking the ridiculousness to a new level, and anyone who dares put their fingers anywhere near his facemask this season is going to be picking them up off the turf! Tuck's new facemask reduces the horizontal bars to five, but the 12 diagonal bars he adds more than make up for the loss. These cross bars turn Tuck's facemask into a gloried cheese grater, or more accurately, a face fortress from which there is no return!
I'm not sure if these will be available for purchase by the public, but as soon as they are, I'm getting one just to wear around the house! What do you think?
| | |
| --- | --- |
| | By Brandon Porter.Brandon is a product specialist at Sports Unlimited. |