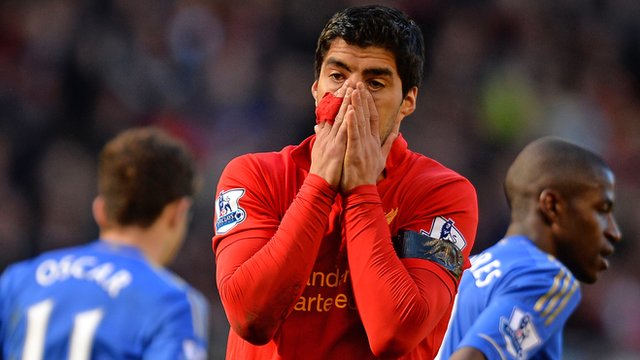 Luis Suarez bit an opponent, again.  He also mesmerized with an assist and snagged a last-gasp equalizer to complete the Gordie Howe Hat Trick. As I watched the Liverpool Chelsea clash on Sunday and saw the same struggles Liverpool has dealt with all season, it seemed like yet another winnable match that they would, in the end, lose due to poor finishing and avoidable turnovers. That is not exactly how it played out. With a brilliant first goal from the Reds that was reminiscent of the glory days of the Kop, rather, the touches were so impeccable that there is nothing to which to compare it except for those brief moments of perfect football that before you acknowledge their existence, are gone to the land of replays. It wasn't until after the converted penalty from Eden Hazard in the second half (given due to Suarez handling the ball in the penalty area), that Suarez bit Chelsea defender Branislav Ivanovic.
It was shocking to see a player, and one of such quality, literally sink his teeth into another player. Both hands grasped the arm as if it were a turkey leg and he the guest of honor at a feast in the heart of the Dark Ages. It is hard to imagine that Suarez had an understanding of what he was doing as he began his descent into the flesh of another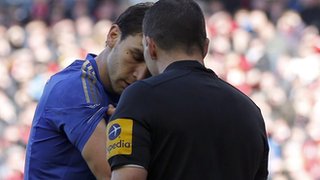 person because what could possibly be rationally going through his mind? This is not even the first time he has bit a fellow player during a professional match. While playing for Ajax in the Netherlands, he was fined and served a long ban for biting an opponent. It seems as though, in our sad reality, he has a reputable history of biting players now. A fine from Liverpool FC will not do.
Oh boy, Luis Suarez at his strangest. And of course, at his finest as he equalized in the 97th minute to deprive Chelsea of the vital three points.
Do defenders need now wear protective gear for the flesh of their arms?  What do you think?