With all of this cold, grey winter weather, the warm greenery of spring may seem impossibly far off. But to the people at Life is good, the scents of backdoor barbeques and fresh cut grass, the sounds of softly strumming guitars, and the joys of pure relaxation are never out of reach. That's why we figured there was no better time than now to unveil the brand new Life is good spring line at Sports Unlimited, and to reveal our sweet new life is good deal! Stock up on these new styles, and when you buy 2 life is good shirts, get the 3rd 50% off! Sweet deal right?
2012 Life is good Women's Spring Line:
Celebrating the many moods of the season, the new life is good women's apparel spring line delivers a range of new, cool colors and styles, offering something for everyone and every occasion. Check out a few of our new favorites:
2012 Life is good Men's Spring Line:
The latest life is good men's wear continues to honor all that is man! From fishing to camping, golfing to barbecuing, life is good men's spring apparel details the best parts of being a guy this season!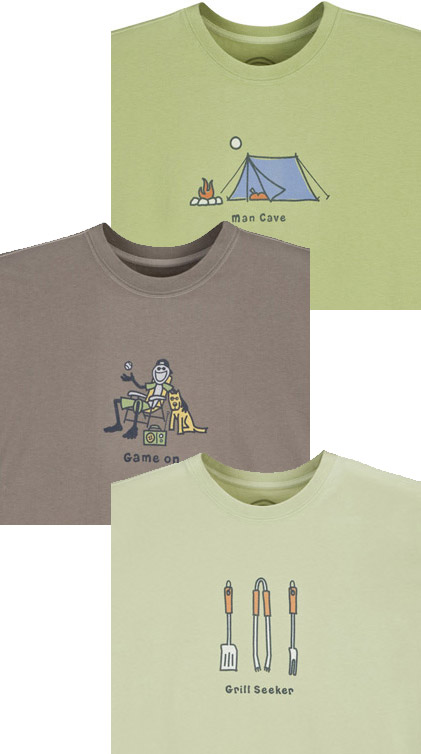 Life is good for the kids too! The life is good kids apparel spring line has the coolest school clothes and weekend tee's to keep them stylish, with that unique flare. Plus, there is no higher quality brand than life is good, so you know these shirts will last through years of horsing around!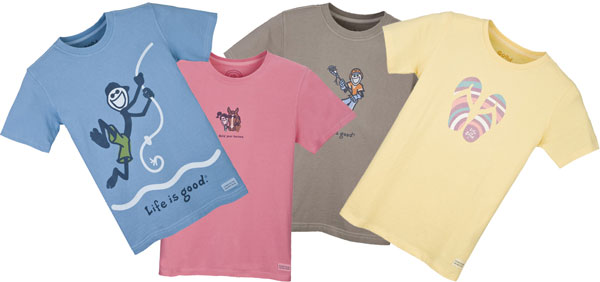 Known for their unimaginably comfortable shirts and sweatshirts, sporting the cool colors of the seasons and uniquely heartwarming graphics, life is good has built their success by embodying happiness. What started with a simple t-shirt and the undeniably lovable grin of their character "Jake," has evolved into full lines of apparel and accessories that define the many things that make life good! But it's what life is good does outside of the stores that makes them really unique, and what makes them a favorite here at SU. Constantly and consistently charitable, life is good is dedicated to improving the lives of children everywhere, and hosts countless festivals every year to raise money for causes that bring joy and education to kids around the globe. So when you rock life is good this spring, know that you're also making life a little better for others!