Behind the plate, you need that perfect combination of lightweight performance and durable protection in your gear, to enhance your natural abilities and keep you off the DL. Thankfully, in 2012,  the three big names in baseball catchers gear are back with new catchers sets that combine industry experience, technological advancements, and new performance materials to improve your game like never before!
Nike Pro Gold 2012 Adult Baseball Catchers Gear Set: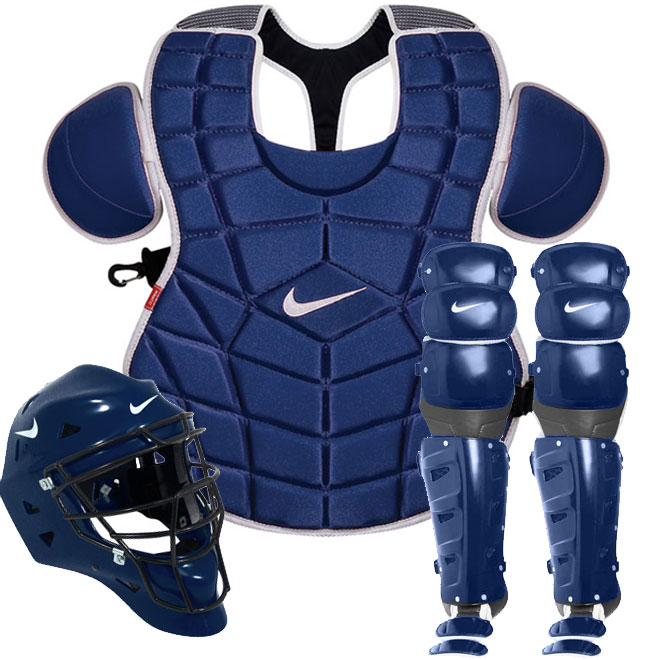 Play like a pro, and look the part too, in this advanced and striking catchers gear set from the masters at Nike. Designed for advanced, adult catchers looking to up their game, each piece in this set is built for lightweight manuverability, comfortable ventilation, and tough-as-nails durability. We particularly love the Camo Cage technology in the helmet, which tints the inside of the facemask giving you a clearer, unobstructed view of the field.
Other interesting specs include:
Lightweight four-layer chest protector, designed with Dual-Density Energy Arrest Padding, that kills ball rebound, to keep wild pitches in front of you and speed up throws out to the field.
Layer of "diamond vent pattern" padding vents out hot air and reduces the weight of the chest protector.
Precision Protection System in the shin guards shifts protection to the medial side of the leg, covering high-risk areas not normally protected.
Reinforced high-wear areas keep the shin guards playing like new longer.
Mizuno Samurai 2012 G4 Pro Youth Baseball Catchers Gear Set: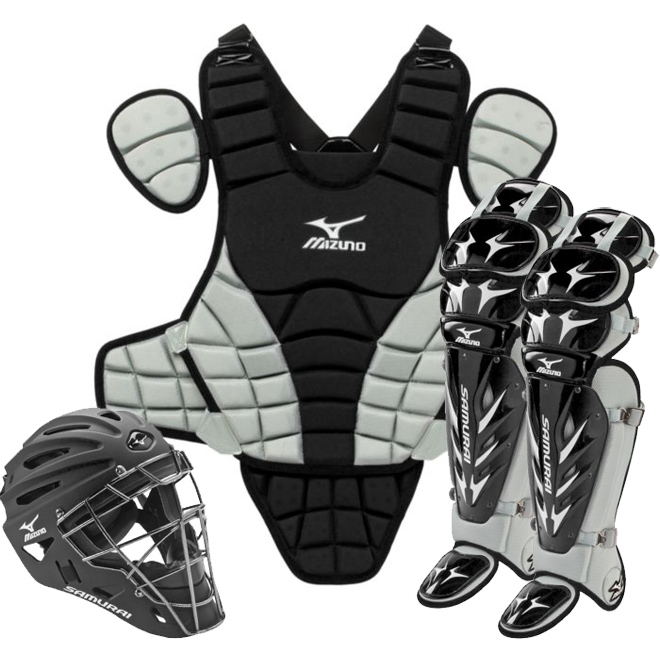 The next generation of Mizuno quality behind the plate; the G4 delivers improved comfort, ventilation, protection, and performance for the youth catcher. Trusted by parents and loved by players all across the country, Mizuno catchers gear is designed for serious, competitive play and high performance.
The new Samurai G4 catchers helmet improves on last year's popular design, with a 3-layer, impact absorbing EVA foam liner and adjustable, moisture-wicking jaw pads, for a safer, more comfortable fit.
The Mizuno G3 chest protector uses a DryLite liner to wick moisture and lessen weight, for quicker manuevering. Detachable, customizable wings and shoulder pads let you strike the perfect balance between protection and performance.
Flexible, durable, and protective, the Mizuno G3 leg guards utilize a detachable kneepad and triple knee cap, for maximum performance and fit. Stainless steel buckles and a Grip-Tech slip-proof coating maintain the perfect fit all game long.
Under Armour Senior Pro Baseball Catchers Gear Set: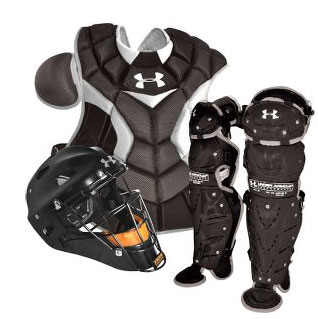 Built with innovative Under Armour technology, performance materials, and strikingly intimidating style, the Under Armour Pro Series Catchers Gear Sets are perfect for the serious catcher of any age. With sets designed for adult, senior, junior, and softball catchers, Under Armour gives everyone the quality, performance, and comfort they need behind the bag.
Injection molded ABS shell helmet with I-Bar vision cage gives you pro-level protection with maximum visibility
Chest protector enhanced with plastic throat, shoulder, and abs inserts, plus low-rebound foam to keep the ball in front of you.
HeatGear material wicks moisture and kills odor-causing bacteria in the chest protector
Shin guard with triple knee cap and thicker plastic in high impact areas for maximum protection.
Breathable mesh lining and 38 ventilation holes keep legs cool and comfortable all game long.
By Brandon Porter.

Brandon is a product specialist at Sports Unlimited.